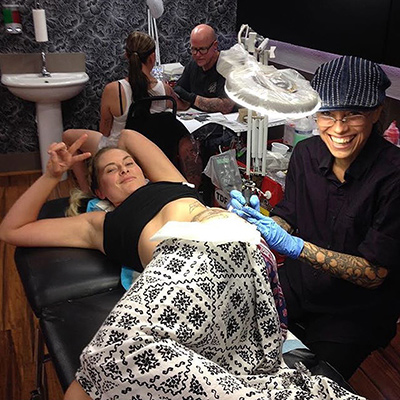 Hi there, I'm Quail. I first started working at Borderline Tattoos in 2004. My Tattooing career began in 1993 in Europe. I opened the first Holistic Tattoo Studio with my husband in Hamburg in 1996. I have continued to tattoo overseas on a regular basis, in Germany as well as the United States.
My chosen specialty is Blackwork, including traditional styles such as Native American and Haida, Polynesian Tribal and Aboriginal designs. I am known for my Fineline work which includes Geometric patterns, Mandalas and stippling, and Celtic designs. Patterns of all kinds are right up my alley. I am also a very gentle Tattoo Artist, I would like to find someone as gentle as me!
I enjoy doing small tattoos as much as big pieces, it doesn't have to be a sleeve to be important or valued. Whatever your chosen motif or the meaning behind it, my ultimate goal is to work with you to discover what it is that you really want to express, to help you understand and enjoy the process, and bring your imagination, and mine, to life. Mostly I just love to tattoo.
See you soon!
Quail Gallery